There are some songs whom you can relate to someone very special in your life. Bollywood songs can fit in each and every situation and emotions of life. But today let's talk about the romantic and evergreen Bollywood songs. There are numerous songs which can describe your love and feelings. We bring you some of the evergreen Bollywood romantic songs which will remain evergreen forever.
Pyar Hua Iqrar Hua-Shree 420(1955)
This is one of the romantic track well-known to everyone. Do you still remember Nargis and Raj Kapoor under a single umbrella? They expressed their feelings in a very romantic way and the song has an effect on people until today. This is an all-time favorite song.
Ye Reshmi Zulfein- Do Raaste(1969)
Guys, this is another evergreen romantic song which is loved by people and appreciated till today. It helps in lightening the mood and has a very sensual music in it.
Meri Saanson Mein-Aur Pyar Ho Gaya(1997)
If you want to express your feelings in a melodious way then this is the perfect song for you. While listening to the song you can easily understand the pain and love of Bobby Deol for Aishwarya Rai Bachchan if you are in love with someone.
Na Tum Jano Na Hum-Kaho…Na Pyar Hai(2000)
This song is a perfect definition of love. This is another romantic song of early 20's which is loved by people and even people used this song to express their feelings to their loved ones.
Pehla Nasha-Jo Jeeta Wahi Siqandar(1992)
Are you in love for the first time? Listen to this song and you will get a tickling feeling in your hands and toes. Every word of this song defines the condition of a person who is in love for the first time.
Aye Mere Humsafar-Qayamat Se Qayamat Tak(1988)
Is your partner away from you? Is yes, then listen to this song while waiting for him/her. This is a beautiful song that depicts the condition of a person who is waiting for his/her partner.
Pehla Pehla Pyar Hai-Hum Apke Hai Kaun!(1994)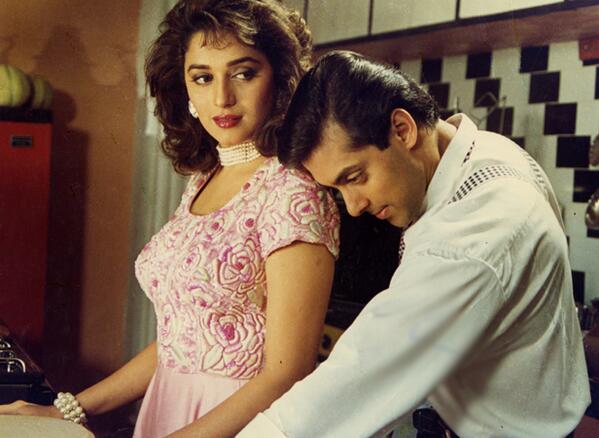 Have you ever fallen for someone who also loves you but you both waited for other to confess their feelings first? This is a very beautiful situation when you know everything but pretend to know nothing. This is the condition Madhuri Dixit and Salman Khan portrayed in this song.
Dil Kya Kare-Julie(1975)
The beauty of this song lies in the courage that you have to show when everyone started commenting your relationship. This is the condition where you need to be strong and have to accept the relationship in every manner. This song beautifully portrayed this situation.
Humko Humise Chura Lo-Mohabbatein(2000)
Mohabbatein is a movie that is purely based on love. Each and every song of this movie clearly and purely defines love. Humko Humise Se Chura Lo is another romantic melody which can describe love in a pure and enticing manner.
Dil Deewana- Maine Pyar Kiya(1989)
Maine Pyar Kiya is a movie that shows both friendship and love in a very beautiful manner. It shows a different meaning of love described beautifully. The songs of this movie showed two lovebirds who are flying with the feathers of love.
Ye Sham Mastani- Kati Patang(1970)
We can say that you will definitely want to see your partner after listening to this song. This is one of the most romantic songs of 90's. It will definitely melt you and you will become desperate to see your partner.
Do Dil- Pardes(1997)
Do Dil Mil Rhe Hai is a song for the people who are in love but are hiding their emotions from everyone. "Do Dil Mil Rahe Hai Magar Chupke Chupke" ;). This song will make you think about the person whom you are in love with.
There are millions of other romantic songs. Comment your favorite song in the comments section and we will surely add it to the list.