In India, it is a trend to eat dessert after lunch and dinner. Meals remain incomplete without dessert at the end. Being a diverse country, India shows diversity in taste also. When it comes to dessert, India has a beautiful and separate love for 'Mithai'. No matter it was marriage function or just a birthday party or simple get together, dessert is the first thing comes to mind. India has a love affair with sweets and desserts which is beyond every limit. Here we present you some of the mouthwatering desserts from all over India. Before reading this, either ask your mom to make something sweet or just visit a sweet shop to purchase sweets. It will be impossible for you to stop yourself from eating dessert. Let's start our sweet journey of India.
Sandesh Of Bengal

Sandesh is a Bengali sweet which uses milk and sugar as main ingredients. Kolkata is the best place to eat Sandesh. People also make its variants from Chenna(or cheese).
Modak of Maharashtra
It is one of the sweet dish made in Western and Southern India. Ganesh Chaturthi is incomplete without these sweet dumpling.  Wheat and rice flour are used to make exterior parts of Modak. The filling is done with jaggery and coconut. It is known as Kudumu in Telugu, Sughiyan in Malayali and Kadubu in Kannada.
Alwar ke Kalakand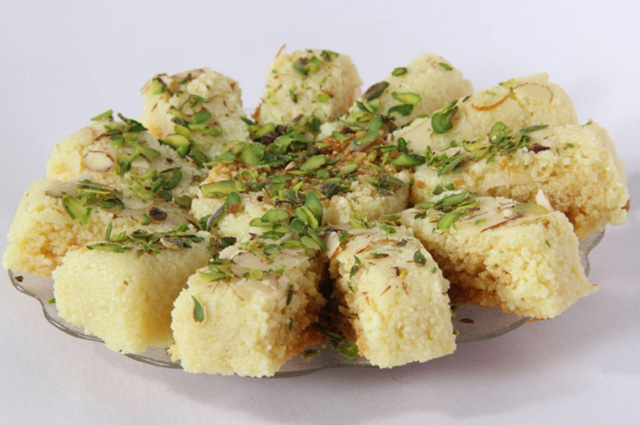 Alwar is famous for many things and Kalakand is one of them. Cottage cheese and milk are used to make Kalakand. This sweet is famous in Northern parts of India. Your journey to Rajasthan will be incomplete until you have eaten Kalakand of Alwar.
Mysore ke Mysore Pak
It is one of the royal sweet dishes. Sugar, ghee, cardamom, butter and gram flour are some of the ingredients which are needed in making Mysore Pak. This is the Indian dessert you can even die for. Mysore is a place where you can find best Mysore Pak.
Gajjar Ka Halwa of Punjab
This is another sweet dish which is very famous in Northern and central part of India. Gajjar ka Halwa is made up of sugar, carrots, milk and nuts. This is the sweet dish made in almost every house in the winter season. Gajjar ka halwa is one of the most mouthwatering dishes for people of North India.
Gulab Jamun
Every Indian occasion is incomplete without Gulab Jamun. Gulab Jamun is made up of khoya, sugar, milk, etc. Khoya and milk are used to make these small balls and then they are boiled at low temperature. After boiling, these balls are left in sugar syrup which was flavored with cardamom and saffron.
Petha of Agra
Your trip to Uttar Pradesh will be incomplete until and unless you have tasted Petha of Agra. Yeah! You read it right. This rectangular shaped sweet dish is made from white pumpkin and is mouthwatering desserts in India. You can easily find people selling petha on the streets and station of Agra.
Peda of Mathura
Peda of Mathura is one of the most famous and most delicious sweet dishes of Uttar Pradesh. Khoya, milk, pistachio, cardamon are some of the dishes that are used for making Peda.
Neyappam of Kerala
This is another sweet dish right from the state of Kerala. Ghee, coconut pieces, cardamom powder, jaggery are some of the essential things that are used for making Neyappam Thiruvananthapuram is the place where you can find best Neyappam. People of Kerala found their lunch and dinner incomplete without Neyappam.
Raj Bhog of Bihar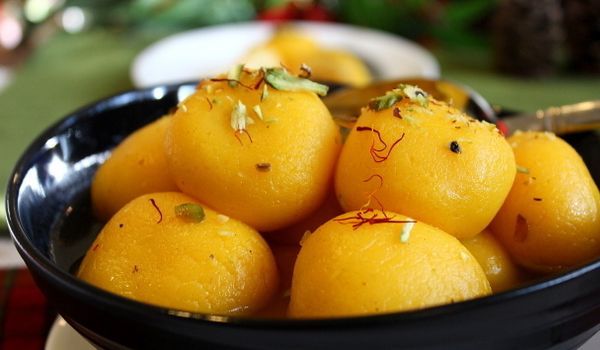 Raj Bhog is a sweet dish which is twice the size of Roshogulla. This sweet dish is famous in the state of Bihar. Chenna is one of the ingredients that is needed in the formation of Raj Bhog. This sweet dish is the specialty of Bihar and it is one of the delicious sweet of India.
Adhirasam of Kumbakonam
One of the most delicious Indian sweet dishes is Adhisaram from Tamil Nadu. Rice flour, butter, pepper, jaggery, etc. are some of the ingredients that are used to make Adhisaram. Kumbakonam is a place to get best Adhisaram. You will fall in love with this sweet after tasting it.
Jalebi or Imarti
Jalebi/Imarti is one of the street food of India. People usually carry them to their home while returning back from work. Hot tea or milk add extra taste when taken with Jalebi/Imarti. If you want to taste best Jalebis or Imarti, then Lucknow and Delhi are best places in India. They bring a sweet taste in the mouth as soon as you will eat them.
These are some of the mouthwatering desserts from various parts of India. You can share your favorite sweet dish or any other dish which is equally mouthwatering in the comments section.