India is a country full of diversity. The country shows variation in food, culture, dress, language, religion, ethnicity and almost in everything. India is one of the biggest tourist hubs in the world. It has a large number of forts, temples, tombs, cities, rivers and tourist places. Each and every place carry a story of their own with them. The architecture, design, colors, gardens add more importance to these places.
Lotus Temple
Lotus Temple or the Bahai House of Worship is a flower shape temple in Delhi. This temple has won many awards for its beautiful architecture. It has been featured in many famous newspaper articles and magazines. The temple defines the spiritual unity of mankind. It has nine doors which have their enterance in the central hall. The temple has the ability to provide accommodation to 2500 people.
Taj Mahal
Taj Mahal is one of the seven wonders of the world. It was a building constructed by Mughal Emperor Shahjahan in memory of his beloved wife Mumtaz Mahal. This monument is a symbol of love. It has the architectural mixture of Islamic, Persian, Turkish, Indian and Mughal architectural styles.
Qutub Minar
Qutab Minar is constructed in the reign of Qutab-Ud-din Aibak. It was started by Qutab-ud-din Aibak and was completed by Mughal emperor Iltutmish. This tower was made of sandstone. It is 238 feet tall and is divided into five shorter stories which are separated by balconies. There is a mosque near this tower and an iron pillar in front of this tower.
India Gate
It is considered as the National monument of India. India Gate was designed by Sir Edwin Lutyens. This is dedicated to the soldiers of Indian Army who lost their lives in First World War, Afghan War and the North-West Frontier operations. There are 85,000 names of soldiers inscribed in it. A flame of Amar Jyoti Jawan is kept alive in remembrance of these soldiers.
Char Minar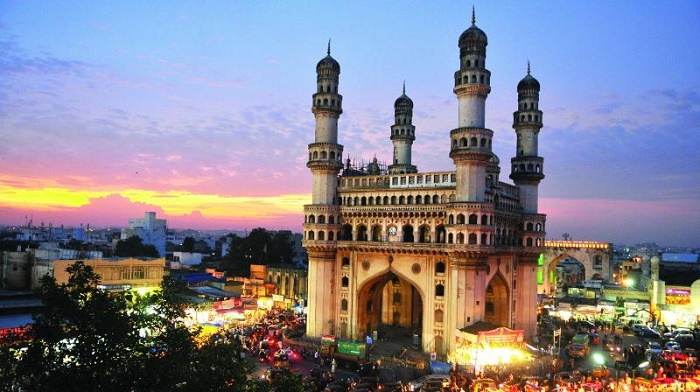 Char Minar was built by Sultan Mohammad Quli Qutb Shah for his wife Bhagmati. This is located in the center of the old city of Hyderabad. It is also known as Arc de Triomphe of the East. This is one of the legendary masterpiece built under the reign of Qutub Shahi. The monument is built in Cazia style of architecture. Granite is used for the construction of this building. It has 'Four Minars' which are carved gracefully.
Golden Temple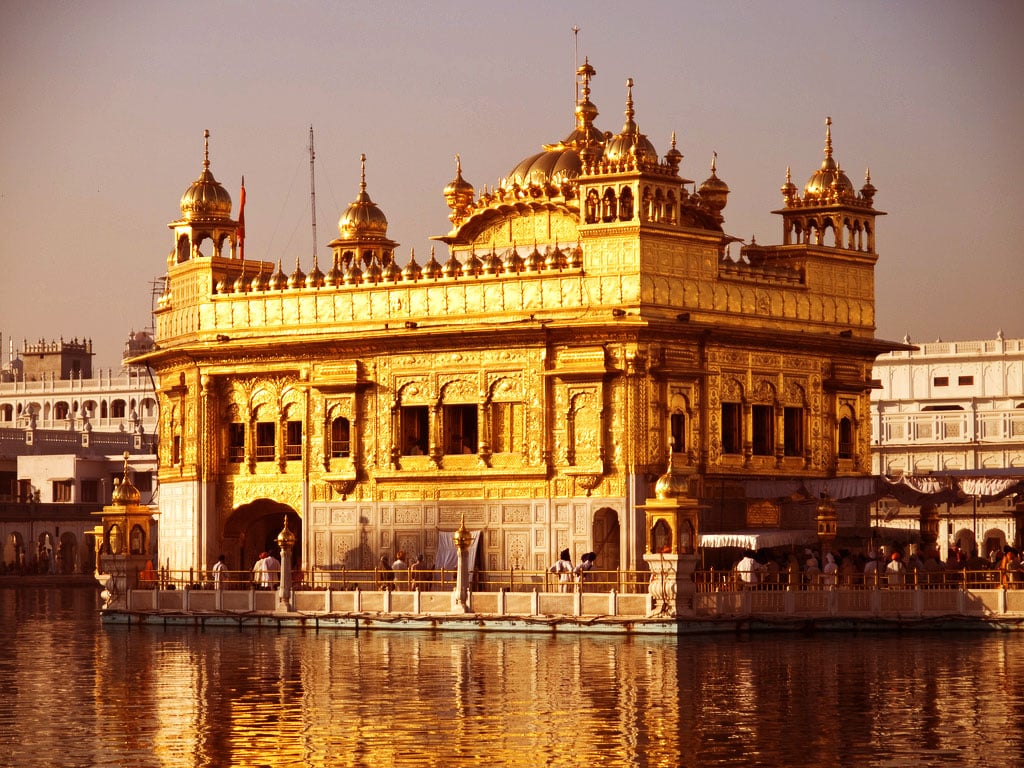 The Golden Temple is also known as 'Darbar Sahib' and 'Hari Mandir Sahibwas'. It was built by Guru Arjun Singh Ji. This temple was then rebuilt under the rule of Maharaja Ranjit Singh. It is the holiest place for the Sikh community.
Red Fort
Lal Qila or Red Fort is located on the Yamuna river banks in Delhi. This fort is built up of red stone. This fort has two entrances known by the name of the Delhi Gate and the Lahori Gate. The Lahori Gate faces one of the most crowded markets of Delhi, Chandni Chawk. This fort contains Diwan-e-am and Diwan-e-Khas.
Rashtrapati Bhavan
Rashtrapati Bhavan is the official residence of the President of India. Before 1950 this was considered to be the house of Governor General of India and residence of the Viceroy. This house has 340 rooms and 74 lobbies. It contains 18 staircases and 37 fountains. The Bhavan has Durbar Hall and Ashoka Hall.
Hawa Mahal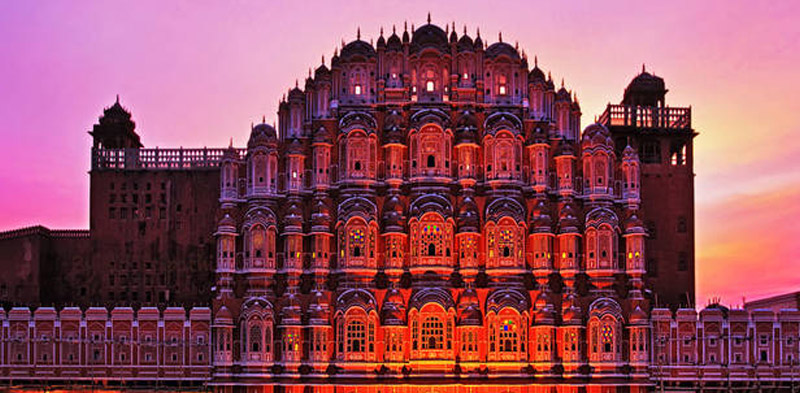 Hawa Mahal of Jaipur is known as 'The Palace of Winds'. It was constructed in the reign of Maharaj Sawai Pratap. This monument was designed by Lal Chand Ustad in the shape of the crown of Lord Krishna. The monument is a five-story building with latticed balconies. It is designed to get the cool breezes on summer days. This was designed for the ladies who belonged to the Royal families. This monument is constructed to make it easier for women to observe the activities that are going on in the marketplace of the city.
Gateway of India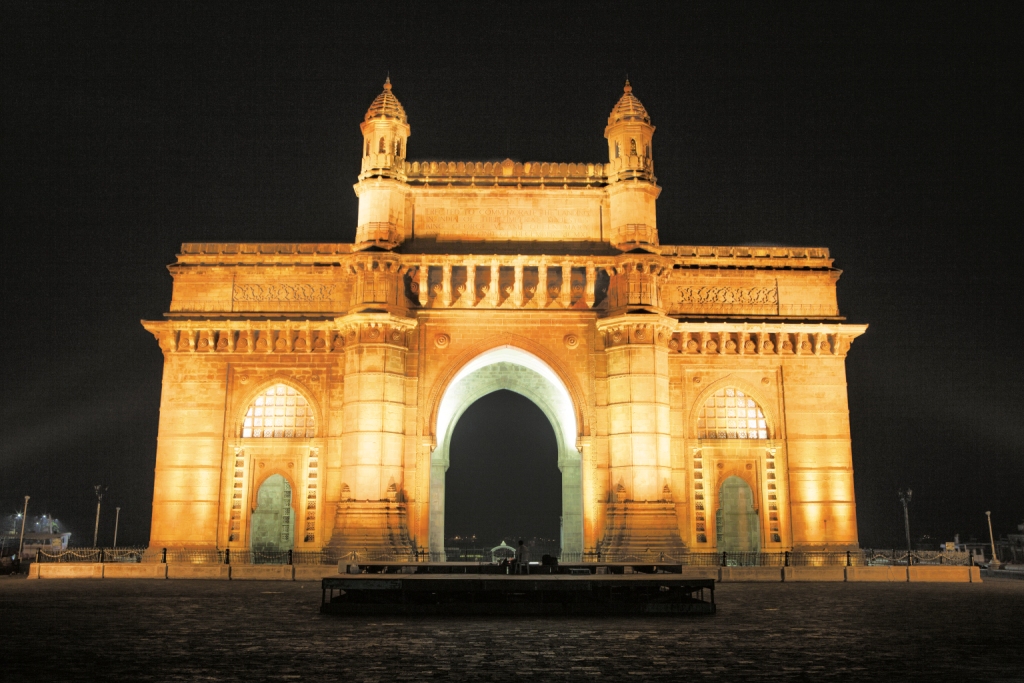 This monument is situated on the waterfront in the beautiful city Mumbai. An objective of building this monument is to commemorate the visit of Queen Mary and King George V to Bombay. It stands as a testimony to the era that is a past now. The materials that are used to build this building are reinforced concrete and yellow Kharodi Basalt.
These are some of the landmarks in India that you must visit. If you are living in India and planning for an outing then add these places on the top of your travel list. If you living abroad and planning to visit India, then visit these landmarks before any other place.