You want your home to be designed in a perfect and beautiful manner? Setting and designing your house is not an easy task. Everyone needs their house to be beautiful and attractive. Only an Interior Designer can understand all the things in a better way. Do you want your home to be decorated by professional and expert Interior Designers? Do you want your house to explain your personality in form of design and your home decor? We brought you a list of some top Interior Designers of Chandigarh. You can contact any one of them for home decor.
Renu Soni Interior Designer Consultancy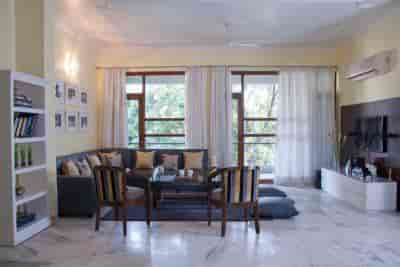 Renu Soni is one of the best Interior Designer in Chandigarh. She is professionally working in Chandigarh for more than 5 years. She is working for designing residents as well as office complexes. Renu is not only working for clients in Tricity but also working for USA and Uk based clients. Her business's USP is flexibility that she provides while working to meet her client's requirements and specification within the given budget and fixed timeline.
Address: SCO 6, Swastik Vihar Mansa Devi Complex, Sector 4, Panchkula
Contact No.: 0172-2556650, 0987-8155665
Timings: 10:00 AM- 7:00 PM
Website: renusoni.com
Email: [email protected]
Globus Interiors, Chandigarh
Globus Interiors is a team of designers and architects working together to provide best interior designs in Chandigarh. This team consists of professional people who are expert in their work.There are two offices of Globus Interiors. One is in Sector 7 and another one is in Sector 15. This team works according to client's requirements, interests and budget. If you want home decor then you can contact them by dropping a mail or by calling them or by directly visiting them at their office.
Address: SCO 7, Second Floor, Sector 7-C, Chandigarh
Contact No.: 0172-4347462/ 0987-2971116
Timings: 9:30 AM- 6:30 PM
Website: globusinteriors.com, designstudiochd.com
Email: [email protected], [email protected]
Kamti Architects & Interior Designers
If you want Interior Designer in Chandigarh, then you can call, visit or contact Kamti Architects and Interior Designers. These people with their team of architects and interior designers work efficiently to provide the best work to their customers. They knew the way of doing all the things. Starting from architects to interior designing to art and photography they knew the best ways to implement. They are perfect for mixing light, shadow, and space to bring higher and better dimension to their designs.
Address: House No 1123, Sector 24 B, Chandigarh
Contact No.: 09814-426427, 0998-8629826
Timings: 10:00 AM- 6:00 PM
Website: www.kamtig.com
Email: [email protected]
Generation Next Design
Generation Next Design Studio works with the motto of being creative, modern and fresh all the time. The team of Generation Next Design Studio has highly professionals and experts Interior Designers and Architects. They are on the list of top interior designers in Chandigarh. These designers specialize in projects related to restaurants, hotels, office complexes, residences, showroom interiors and a lot more. They work hard to reflect their client's personality in the work they do.
Address: Sector 35 D, Main Market, Chandigarh
Contact No.: 0987-2583491
Timings: 11:00 AM- 8:00 PM
Website: www.generationnextdesign.in
Email: [email protected]
Aseem Interiors
Aseem Interiors is one of the best options if you are looking for Interior Designers in city beautiful. They are well-known for their work. Aseem Designers can work according to your budget and will provide you elegant and classy designs. You just have to tell them the design and then it will be their hard work, dedication to make your imagination come true. You can contact them when you want to design your office, house or just to give a theme look to your kid's birthday or any other function.
Address: #1047 B, First Floor, Gobindpura, Manimajra
Contact No.: 0852-8250005, 0172-2733374
Timings: 9:00 AM- 9:00 PM
Website: www.aseeminteriors.com
Email: [email protected]
There are a lot of Interior Designers in Chandigarh who has worked locally, nationally as well as internationally. These designers are known for exquisite works, artifacts, interiors, etc. You can contact anyone of these Interior Designers. They will provide you the best work in your budget and within your time limit.