India is a country which holds a lot of mysteries, culture, stories of tunnels, tales about hidden treasures, people who died in a very dreadful way. There are still many palaces, forts, beaches and even some of the houses or localities which are said to be possessed by ghosts. Are you in a relationship where your partner or do you have friends who will prefer telling ghost stories to you in place of discussing some romantic things and you also do the same? We brought some of the haunted places where you can go with your partner or friends if you are a big fan of horror and want some thrill in your life. So, let's check it out.
Dumas Beach, Surat, Gujarat
This beach is holding many of the horror stories along with it. Some people boast about murmurs which are overheard, again and again, some talk about the paranormal sights on the beach. The most commonly heard story is that this beach is a cremation house for the Hindus and the souls which are not freed from their lives are present there on the beach. It is said that people even lost their lives while exploring the beach. So plan a trip to this place with your loved ones and enjoy your horror trip.
D'Souza Chawl, Mahim, Mumbai
D'Souza Chawal is one of the most haunted places in Mumbai. The story which is commonly heard about the place is about a woman who fell down in the well and dies while crying for help. People who are living in this Chawl always tell the story of a ghost who loiter around the wall. Many people have also heard her yelps.
Ramoji Film City, Hyderabad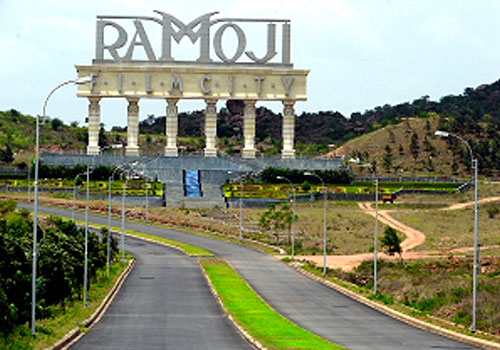 Ramoji Film City is one of the biggest film city in India. This city has many hotels and the people who stay there complain about the some of the paranormal activities that are taking place in the rooms. Some of the suspected activities that generally took place are lights falling off automatically, knocking on the door, some strange marks that are present on the mirror, and food which is scattered here and there. The horror story of this place is about soldiers who die at this place. They are lurking in this place and make female their target. We suggest you a night stay at this place with your partner or your friends and your time will be filled with the thrill, fun and romance.
Raj Kiran Hotel, Lonavala, Maharashtra
Are you aware of a famous hill station Lonavala located in the state of Maharashtra? It is one of the best places for night outs and picnics with friends and family. Raj Kiran Hotel is one of the best hotels in Lonavala. But people boast about the haunted ground floor of this hotel. People who lived there boasts about some weird things that are happening with them. Some of the strange things that have happened with the people are knocking at the door, bedsheets being pulled off, and many more. Just head on to this place with your partner or friends for some thrill in your life.
Sanjay Van, New Delhi
Have you ever seen a woman in a white saree who suddenly vanishes in dark? Sanjay Van is one of the spookiest places in Delhi. People always stated about a woman who was seen in a white saree in this forest. And suddenly this lady vanishes in air. Plan a drive with your partner or friends and take a part in the race with this lady.
Dow Hill, Kurseong, Darjeeling
Dow Hill is a place loaded with lush green trees and this place has a very beautiful scenic view. People talk about a headless boy who walks in the in the forest and also claimed that he suddenly disappears in the woods and also people heard footsteps of the someone. Head on to this place for more thrill and go and shake your hand with this headless boy. 😉
The Brijraj Bhavan Palace, Rajasthan
Brijraj Bhavan is a palace which has been converted into a heritage hotel. It was claimed that this hotel is haunted by the ghost of Major Burton. He was shot inside the palace along with his sons. Although the ghost of Major Burton doesn't harm anyone, security guards complained about being slapped with an invisible hand at night. For a night full of adventure, book a room in this adventure hotel along with your partner or with your friends group.
Bengal Swamps, West Bengal
Aleya Ghost Lights or Bengal Swamps deserves to be a part of this list. This is a place where you can see a light over the lake. The story behind this place is about a fisherman who drowned in the lake. It was claimed that this light is the sign of danger and this light is used by the fisherman. Plan a trip to Bengal swamps and do the romance in the light over the lake. You can meet fisherman for more thrill. 😉
Taj Mahal Hotel, Mumbai
Every one of you must have heard the name of The Taj Mahal Hotel Mumbai? This hotel is haunted because of the ghost of the architect who designed the hotel. The architect killed himself inside the hotel. He had taken this step because the hotel was not built as per his design. People claimed that his spirit loiters around in the hotel. No one was ever harmed by the ghost. But people complained about the unusual happenings that took place with them. It is one of the best places to head on to for some ghostly adventure and a romantic day full of thrill, love, and excitement.
The Savoy Hotel, Mussoorie
Lady Garnet Orme is the lady behind the haunted stories about this hotel. She was found dead and it was reported afterward that she died of cyanide poisoning. You can book a room with your partner and just wait to meet Lady Garnet while romancing.
GP Block, Meerut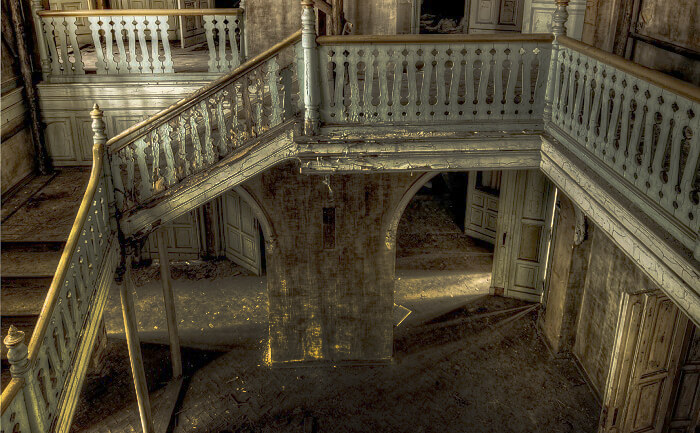 GP Block is a complex covering three houses in a row. Local people report about some ghosts who are loitering around in these houses. One of the most common haunted stories about this block is about four boys who are drinking alcohol while chatting with each other. People also claimed about a lady clad dressed in a pretty red dress. You can visit this place after sunset to meet these boys or the lady.
Shaniwar Wada Fort, Pune
The Shaniwar Wada Fort is one of the most famous haunted places in India. This place has been evidence of many haunted incidences. Reports said that the maximum level of paranormal activities in noted on full moon night. The story behind the paranormal activities happening here is about a young prince who was once slaughtered inside the fort in a very cruel manner. His spirits scream "Kaka Mala Vacha" which means Uncle Save Me. Different people have different stories about this place. You just visit this place and share your experience with us.
National Library, Kolkata
The National Library of Kolkata is well-known for the collection of books. Other than books, this place is also famous for the paranormal activities that take place inside the library. You can visit this place if you want to meet Governor's wife whose ghost haunts this place. Visit this place with your partner and get chilling experience with some supernatural activities and some of the rare books.
Aarey Milk Colony, Mumbai
If you and your partner want the eeriest experience then take a long ride on the Aarey Milk Colony. There was a lady who keeps on asking for the lift. In case you are brave enough then get ready for a ride to the hell and in case you deny her for a lift then she will run with your vehicle. There are several other incidences as well. Sometimes she was accompanied by a small child. Try this experience and Yeah! Don't forget to share the experience with us.
Bhangarh Fort, Rajasthan
This fort is located in ruins. You have to go through the wrecked roads before finally reaching this abandoned place. The story behind this fort was about a magician who has fallen in love with the princess of Bhangarh. This man tried to cast an evil spell in order to make princess fallen in love with him. The princess was aware of his plans and she got him killed. The magician cursed the city before dying by saying that there will be no roof in the town and every single person of this town will die. For your information, we want to tell you still the temples and houses in this town are without roofs. Plan a trip to one of the most haunted places in India and enjoy the thrill.
It was a belief among the people that the souls of the people who die an unnatural death or people whose dreams remain unfulfilled roam around. We dare you and your partner to plan a vacation to these haunted places in India. And Yeah! Don't forget to share your experience with us.