Just a couple of days of 2017 are left. Everyone is planning for the New Year Eve. There are social media telling people about all the preferences and references of spending New Year Eve. But some people are still confused and pissed off about their plans. Chandigarhians are you still biting your nails and thinking where to spend new year eve and make it special? We bring some of the parties that you can be part of with your family, friends or with your special one. These are some of the options for celebrating your new year.
Swank up your New Year Eve with The Peddlers
The Peddlers is one of the options where you can spend your New Year Eve. They are working for making your parties awesome in some of the most happening places of Chandigarh which include Sector 35, Elante Mall and Sector 26. Peddlers are one of the best and most loved pub lounges in Tricity. They have prepared themselves for making your 31st December Eve memorable and best. With Peddlers, say Goodbye to 2017 and welcome 2018 with daaru-shaaru, palatable food, and dance on mauj Masti wali tunes. Punjabis are known for Dance and khaana peena so they will never let 2017 end without these two things. The party at the Peddlers will bring up that Punjabiyan da blood and will give an outstanding farewell to 2017.
You should be in the Hotel Arista while welcoming 2018
Thinking where to go on New Year Eve? Then head on to the Hotel Arista. Unlimited soft and hard drinks, two amazing DJ's, Live Band performance, Masti Maza, dance and lot more are there for you in Hotel Arista. This is one of the best places to celebrate your New Year Eve with family, friends or with your special one. This is the place where you can get unlimited daaru, with lots of beautiful music to dance on and lot more fun and the best way of bidding goodbye to 2017. Head on to the Hotel Arista and enjoy your special and fun-filled Eve.
Welcome New Year with Rajasthani Aan Ban and Shan at Chokhi Dhani 
If you are planning to celebrate your New Year Eve with your family then Chokhi Dhani is one of the best places for the celebrations. With the culture of "Padharo Humare Desh", Chokhi Dhani has prepared for Magic Show, Toddler Play Area, Bonfire Night, DJ Bash and many more things and yeah! Rajasthani food served at this place is also a thing to be mentioned specially. Chokhi Dhani is a place where you can have best New Year Eve with your family while having Rajasthani touch and feel. You can simply visit this place and can celebrate the best ever New Year Eve with your family.
Start your New Year at Hoppin Resto Bar with your Anmulle Yaar 
Resto Bar is another name that can be considered as an option while planning for your New Year Eve celebrations. This place becomes more alluring because of the presence of DJ Akanksha. If you want to spend awesome time with your Anmulle Yaar, then head on to Resto Bar in Elante Mall. It is the perfect place to show your Punjabi Swag and style. Combination of drinks, Anmulle Yaar, food and beautiful atmosphere are enough to give 2018 a grand starting. Head on to this place for excitement, fun, dance, drinks, and lot more.
Enjoy New Year Eve At The Upstairs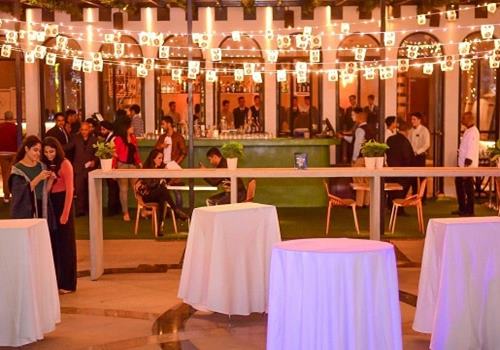 Last on the list is Upstairs Club. The two things which make this night special with Upstairs Club are Mumbai se Aaya Hua DJ and Signature Upstairs Cocktails. This is one of the most exclusive and beautiful parts of the town. Watching skylines of the city beautiful and enjoying with dance moves and all drinks and food is like a dream party for everyone. DJ tunes, signature cocktails and outstanding fireworks as soon as the clock strikes 12 on 31st December eve will be the most beautiful thing you have ever witnessed in your life.
These are some of the places where you can enjoy your New Year Eve. We will come back to you with all the parties that will be planned in the city for you guys. Till then, keep planning, grab a beautiful outfit and get ready for the fun.