We know choosing a saree for any occasion is difficult. But do you know what is more difficult? Choosing a blouse for your saree. Agree? A blouse is equally important for your look as saree is. It becomes but difficult and trickier to select one of them. So today, we bring you some of the classy and beautiful back designs for your saree blouse that will make you look more elegant and graceful.
Pretty Princess
This beautiful and elegant princely-styled blouse can go with almost every saree you own. This is very common among newly wedded girls.
Vintage Touch
Now let's add some vintage touch to the blouse. This vertical whole describes the elegance of this blouse and also enhance the beauty.
Quirky Combination
This is a back design which is very common among new saree wearers. These can go well with all of your beautiful and simple sarees. The triangle cut will add different grace to your blouse as well as to your overall look.
Bridal Blush
This blouse will add charm to your look. You can wear this beautiful and elegant blouse on your all of your post or pre-wedding functions. Beautiful na! 😉
Deep V
V design is one of the oldest and most common designs for upper wear. This beautiful design with string at the end is so sexy to handle. The best thing about this blouse is that it will never be out of fashion.
Indian Touch
Want to look simple and bold? Choose this style and be the most simple yet beautiful women. Be evergreen.
Simple Cut
This blouse is unique because of the trapezium cut and the brocade lining. This is another simple and elegant back design for your blouse.
Deep rectangular cut covered with Net
This blouse is the buddy for the ladies and girls who don't want to wear heavy sarees but want to look beautiful. This blouse will surely add grace to your beauty. And the best part is the line which is going from top to the bottom hence making it more enticing.
Collar Neck
This style is famous for newlyweds or brides. This design will turn each and every head for you. Just try this one Girls. 😉
Bridal Glory
This blouse will be perfect for your wedding dress. The triangle will let you enhance your beauty. The remaining part is highly embellished and will add grace to your wedding dress.
Pearl Love
This blouse is perfect for you if you don't want to show your skin. This blouse is covered with heavy work of pearls and is a perfect pick for you. Yeah! You can thanks us later.
Sun at the Back 
If you are planning to wear a net saree or a heavy lehenga, then we advise you to choose this blouse. The sun on the back surrounded by mirrors will surely make you look gorgeous.
Peek-a-Boo
Want to grab all the eyeballs present in the event? Just choose this blouse to look stunning. 😉
Royal Touch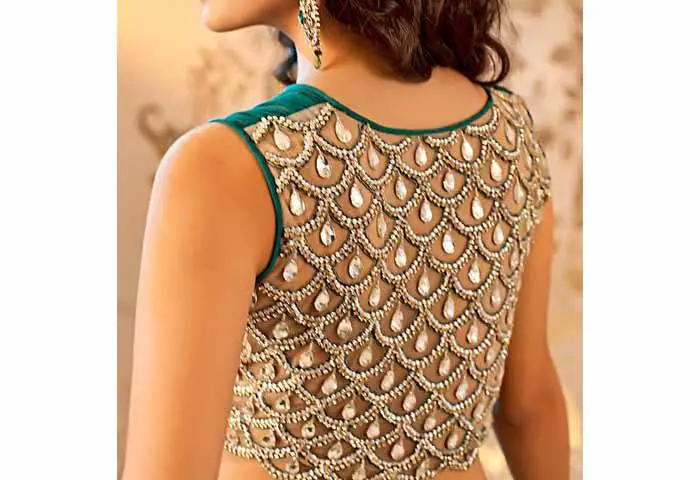 Give yourself a royal look with this blouse. Heavily embroidered layers will look elegant on you. It will give you a magnificent and rich look.
Spider Web
This design is unique and beautiful. Try this one. 😉
Two Strings
Try this only if you are bold enough to wear a blouse with just two strings. This is a very beautiful way to wear a backless blouse. Be Bold and Sexy, Yeah!
Criss Cross
Want that sexy look? Go for this blouse. There can be different variations in criss-cross blouse but they will look sexy 😉 all the time.
Sheer Back
Sheer is in fashion nowadays so why not you should try a sheer back blouse? Try it for an alluring look.
Classic Cut
This is simple and one of the evergreen blouse for ladies. Simple low back and string on the shoulder can work with every saree. You should have one classic cut blouse.
Belt Design
A blouse having a belt on lower and string on the shoulder is one you can wear if you want to look stylish and beautiful. Get it now.
Bollywood Beauty
All of you must have adored Deepika Padukone, Priyanka Chopra and Anushka Sharma for the blouses they wear. Now it is time to grab one.
A blouse is a thing that can completely make or break your style and look of your saree. You are lucky to have this list in front of you. Now grab a beautiful blouse and be the most stunning lady in the party.