Aerobic exercise is beneficial to the human body in various ways. This exercise will help you in increasing your emotional stability and boosts up your confidence. It also improves the immune system of the body and lowers the blood pressure. It also helps in shedding your excess weight by burning the extra calories. Aerobic exercise also helps in lowering the cholesterol level. If you want all this to happen then the aerobic class is the only destination for you. Here we are providing you the list of 7 best Aerobic classes of Chandigarh.
Fitnovatives
In our list of top 7 aerobic classes of Chandigarh, Fitnovatives deserves to be ranked on Number 1. Some unique cardio classes given by expert trainers makes it stand alone in the category of aerobic classes. Best exercising instruments are available in this class and a good music for perfect workout make it a better place for aerobic classes.
Timings: 6 AM – 10 AM, 5 PM – 9:45 PM
Fees: Rs 1600 per month
Address: SCO 3013, Level 1, Sector 22 D, Chandigarh.
Danceworkz studio
DanceWorkz is run by Jhalak Dikha Jaa and IGT season 7 Fame Sumait Kumar. He and his partner Borhan Reza works efficiently to make cardio sessions funfilled. Dedication of the trainers towards the aerobic session help in keeping the name and fame of DanceWorkz Studio.
Bodyzone Fitness

Another studio which provides aerobic classes in Chandigarh is BodyZone Fitness. This is well-known for its infrastructure and expert trainers. You will experience fun, fitness and confidence with your cardio exercise when you will be a part of BodyZone Fitness.
Neha Aerobics Classes
Neha Aerobic not only provides classes in aerobic but also in Yoga, weight loss programs and other cardio exercises. Some dance forms like Zumba, Bhangra, etc are also available along with aerobics.
Timings: Mon-Fri 6 AM to 9: 30 AM and Sat- sun 5:30 PM only.
Fees:  Rs 1600 per month
Address: House Number 604 First Floor, Sector 33b, Chandigarh.
E-fit, Chandigarh
E-Fit is another place to step in if you are searching aerobic classes. It is situated in Piccadilly Mall. Strength, weight training and cardio workouts are some of the reason for choosing this place. This can be your perfect choice if you are a fitness freak.
Timings: 6:30 AM to 10:00 PM
Fees: Rs 2000 per month approx.
Address: Piccadilly mall, ground floor, sector 34, Chandigarh.
The Engine Room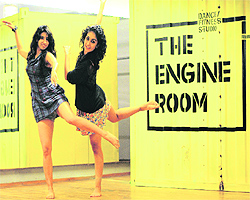 The Engine Room is a dance academy which is dominated by aerobics lovers. Trainers in The Engine Room knows how to extract 100% from you. Each cardio session here gets much better than before.
Timings: Mon: 12:00 Noon to 8 PM
               Tues: Fri 7:00 AM to 8:00 PM
               Sat: 4:00 PM to 8:00 PM
               Sun: 4:00 PM to 12:00 Noon
Fees: Rs 2000 per month (approx)
Address: SCO 62-63, Sector 8 C, Madhya Marg, Chandigarh.
Planet Fitness
If you want to get a proper body shape with aerobic classes then Planet fitness will definitely help you with continuous cardio sessions. The rate can be higher but results will be best. This is one of the top 7 aerobic classes of Chandigarh.
Timings: 5:30 AM to 10:30 PM
Fees: Rs 2000 per month
Address: SCO 62-63, Madhya Marg, Sector 8, Chandigarh.
These are some of the places that are providing the best aerobics classes in Chandigarh. Charges mentioned can vary by a little amount. So what are you waiting for …Go and take your aerobics classes from one of these classes and be fit and healthy.